Mirror, Mirror On The Wall… I Don't Always Have To Shop At The Mall.
For most of my twenties, I've spent a lot of cash on nice skincare products because their one-of-a kind ingredients make me look youthful. As a result, I pass on grocery brands because they don't give me the same glow. However; every now and then,through a fun Google search or while browsing the beauty aisles of my local Target, I come across a bottle or two of solution that catches my skeptical eye.And, surprisingly after using the device for weeks, I realize that it's so good that it ends up getting a prime spot in one of my glamour containers. Nowadays,I regularly use many of these economical potions on my face and body. As such,the following are my top 7 drugstore skincare picks that help me get my Orange County selfie ready look.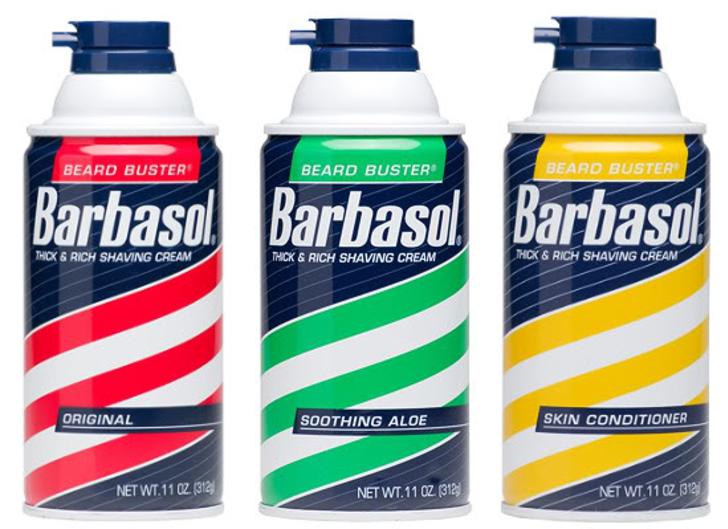 Barbasol Badass Original Shaving Cream
What does it do?
The foam in conjunction with my razor helps pull out my body hairs.
Why it's so great:
Barbasol is my go-to shaving cream. Just a small amount of the thick white froth help stake out the widest, longest and/or tiniest strands that my very shaggy (yes,its unfortunate but true) figure bears. Whether I use ultra cheap, but highly efficient Schick Twin Blade Disposable Shaver or top of the line C.O.Bigelow Premium Shaver , it never leaves any filament traces behind (even the ultra pesky minute ones on my fingers). It also doesn't dry out my epidermal is like Gillette Fusion ProGlide Sensitive or create those icky in grown hairs that I find my duty to painfully pluck. In the battle over-shaving creams, Barbasol undoubtedly reigns high.
Its only shortcoming:
I still shave daily because the lather doesn't prolong the amount of time I cango without a trim.
An added bonus:
Have you ever tried pruning your philtrum (that's the part between your nose and upper lip) with Barbasol? I did and it astonishingly shed all of my whiskers and left the section uncommonly smooth for weeks without growing back thicker.
Available in stores at Target & Walmart . It's online at amazon.com & drugstore.com .
Price ranges from $1.24 to $5.60.
Biore's Brilliant Deep Cleansing Charcoal Pore Strips
What does it do?
The pore strips remove blackheads from my nose.
Why it's so great:
In my opinion, Biore produces the most effective slips out in the market. Here's why. They adhere incredibly well to my features, extract all my surface blackheads and with continuous use lessens the recurrence of them. They're also made out of charcoal, which makes better than the white ones at absorbing oil for the deepest clean possible. And even though they're only for the nostril region, they do a fantastic job at extracting nasty comedones from my cheek and chin prone divisions.  
It's only shortcoming:
Remember since comedones are dark and the paper is ebony it's difficult to see them. Also the product, like similar acne strippers (eg. Boscia's black strips), only takes out the top layer, not the ones that are deep in my glands.
An added bonus:
Heat and time dislodges more of them. Here's what I do. I take a hot shower for about 30 minutes, which opens up my pores and allows the material to stick on better to my features. I then wait about 45 minutes till it's super dry and quickly yank it off. The expulsion stings quite a bit, but believe me its worth it just to see all those yucky clogged follicles on the slip!
Available in stores and online at Target & Walmart . It's also on the web at drugstore.com .
Price ranges from $5.47 to $7.99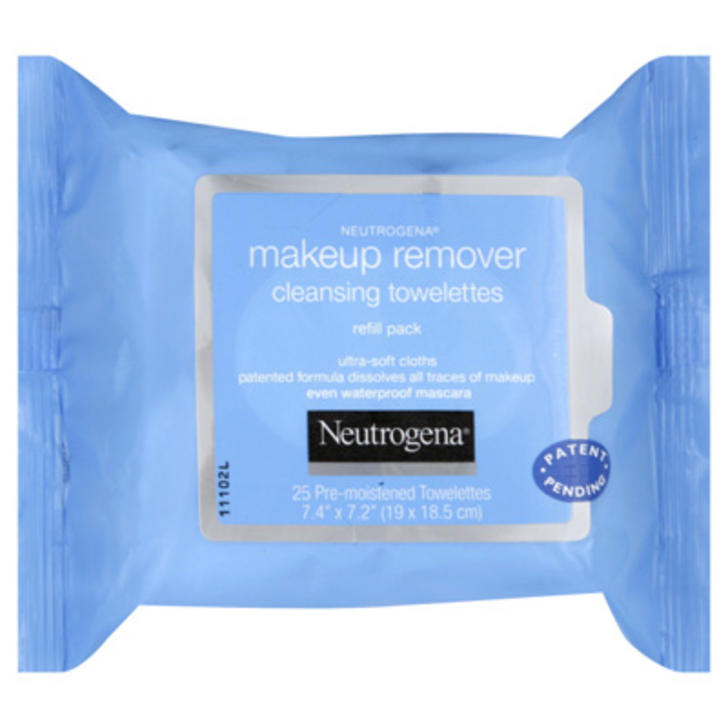 Neutrogena's Nifty Makeup Remover Cleansing Towelettes
What does it do?
The wipes eliminate cosmetics and waterproof mascara from my face.
Why it's so great:
Neutrogena's Makeup Remover Cleansing Towelettes are so quick and easy to use they actually motivate me to take off all my makeup after a long day of working or going outwith friends. With just a couple of wipes I easily get rid of all traces of foundation from my visage (including dark eye shadows and brightly colored liners). It also provides my skin with so much moisture and dewiness that I altogether skip my night creams and hit the hay.
Its only shortcoming:
As an avid wearer of glitter, it won't expunge an ounce of the pigment from my countenance. So until they come out with a shimmer proof mini towel (which may I add doesn't exist) I'll continue to use my clarifying and gentle Neutrogena Oil- Free Eye Makeup Remover to swipe off the sparkles from my-physiognomy.
An added bonus:
After using two cloths to take off all the tints, I use my physician recommended NeutrogenaOil-Free Acne Wash to wash out all the left over dye from my face and leave it gleaming.
Available in stores and online at Target , Walgreens & Ulta Beauty .
Price ranges from $6.99 to $8.99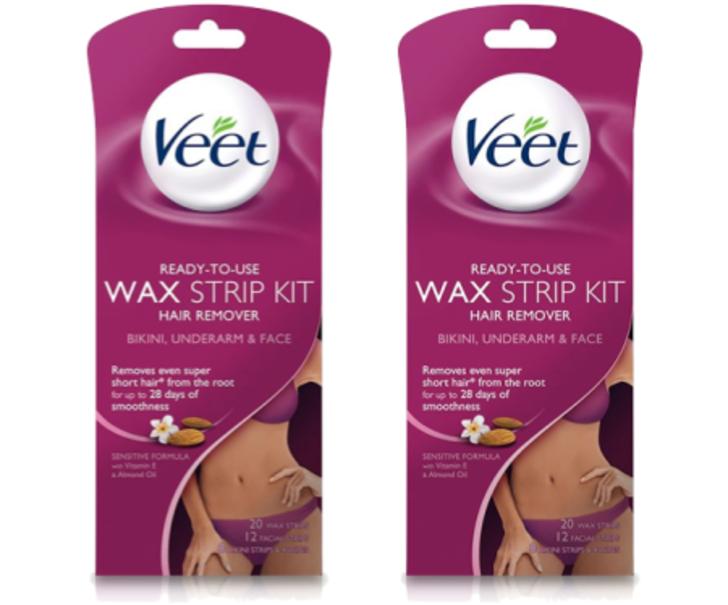 Veet's Really Cool Ready to Use Wax Strips (Bikini, Underarm & Face Kit)
What does it do?
The wax strips remove my facial fibers.
Why it's so great:
In one fast pull, against the direction of my hair growth Veet's clear tape takes out my embarrassing large mustache (yes, mustache) and the teeny tiny baby bristles that I routinely must annoyingly tweeze. It also doesn't grow back thicker, but rather thinner and takes longer to come back which means that I only do it about once a month instead of every two weeks. With all this extra time, I can do better things than wax my face, like blog about beauty J .
It's only shortcoming:
Proceed with caution! I did a patch test first on my hand to make sure that my sensitive skin could tolerate the removal. Since it didn't get irritated I waxed my philtrum, but was careful to only rip fringes from the same area once because repeated pulling can cause injury to my profile.
An added bonus: The tape is tough enough to tear blackheads from my sniffer and T-zone!
Available in stores and online at Walmart & Walgreens .
Price ranges from $5.17 to $5.99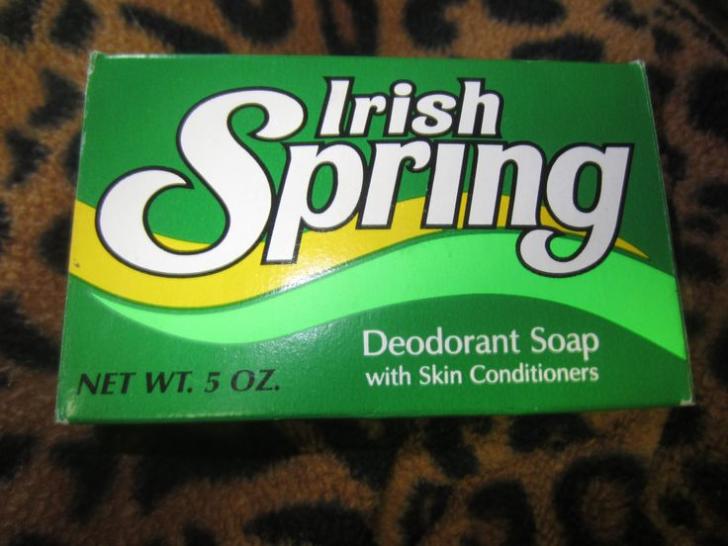 Irish Spring's Solid Deodorant Bar Soap
What does it do?
The soap leaves my body so fresh and so clean, clean.
Why it's so great:
This is by far my favorite 'dime store' gem on this list.   The truth is that after decades of everyday use its extraordinary garden fresh feel still keeps me outstandingly clean. Even after a hard workout at the gym or a fun sandy day at the beach, it easily gets rid of any excess dirt on my frame (especially my embarrassing, smelly feet and under-arms) and never makes me feel oily or over hydrated And if my facial cleanser isn't handy, the bar does a decent job of expelling of the day's debris from my visage.
Its only shortcoming:  
The suds dry out my legs and arms so after a bath it's necessary for me to apply ample amounts of lotion to those extra dry regions.
An added bonus:
There is also a liquid version of the soap! So when I get lazy (which is more often than not) and want a deeper disinfection, I pair it with any drugstore sponge or my powerful, professional ClarisonicSmart Profile Body Brush to get the same zesty, refreshing feel that the brand is so famous for.
Available in stores and online at Walmart . It's also on the web at Jet.com and inside some 99 Cent Only Stores.
Price ranges from $2.22 to $5.97.