The Pink Elephant In The (Social Media) Room…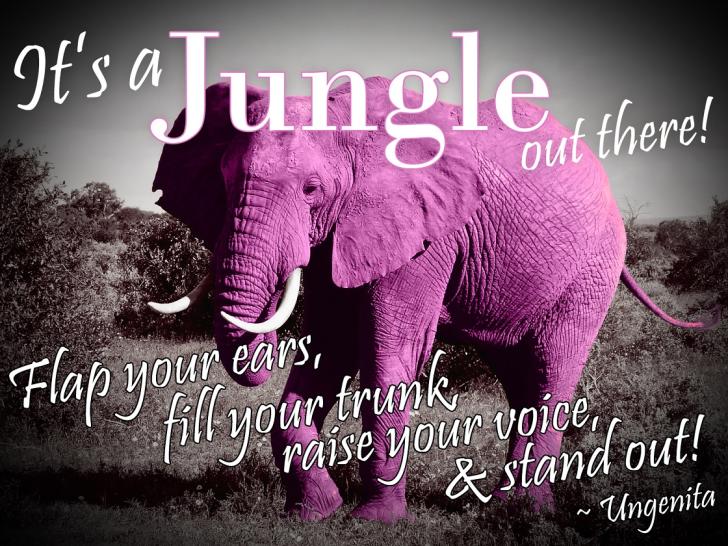 I love the lyrics to Echosmith's song "Cool Kids". It goes like this "I wish that I could be like the cool kids, 'cause all the cool kids, they seem to fit in".
As an entrepreneur, you're constantly looking at ways to fit your skills and talents in the marketplace; and if you're looking for a #PoshONPennies business ti p , two words come to mind… #SocialMedia. But, let's face it; the social landscape can feel a lot like high school. You want to be popular. You want to be recognized for who you are and what you do. I know, there's a lot of competition, little jobs and loads of debt and pretty stuff to buy out there (and don't get me started about paying the rent), but if we hit the pause and unplug for a minute, we'll see what's really missing from our social repertoire.
If you say there is an elephant (my elephant stampedes in pink) in the room, you mean that there's an apparent problem or difficult situation that people do not want to talk about, BUT I do.
Ladies AND Gentlemen, we are in the "Connection Era", but look to the left and look to the right and you will see we are NOT connected.
We need MORE " connectilizing " and less socializing.
"Connectivity is the new Currency" and if that doesn't light a fire under your skinny jeans, I don't know what will. There's big money to be made online and if you're serious about filling your wallet with a lot of dollars, look at the Beauty & Fashion bloggers, the best example of influencers today.
The word #Influencer is probably trending right now on Twitter. Brands want to collaborate with Influencers. Customers are more likely to buy from Influencers. What is the secret behind Wendy's Look Book, Tay Allyn, Michelle Pham and many other girls? They know how to charm and connect with millions of people, and steal the spotlight.
Repeat this social media mantra after me: Mirror, Mirror on the wall, I want to be an Influencer once and for all.
It doesn't matter if you have 10 followers or 1000 followers. If you want to level up your entrepreneurial street cred, put on your Big Girl panties and head over to LinkedIn.
I know what you're thinking; LinkedIn is not as glamorous as some of their more popular predecessors. I would agree, BUT, where the other social media platforms fall short, LinkedIn is the piece that will put your social media wardrobe on the best dress list.
Basically, every social media channel has its own language: Facebook is to socially connect with our friends and family, Instagram is about striking a pose and hitting the share button, Twitter can be used to express our individual identities but LinkedIn works as a networking platform to connect on a core level and if you want to find a sexy side hustle or reach power players, LinkedIn is good for that too.
So…how do you conquer the social media landscape with class and a whole lot of sass on LinkedIn?
The secret to a LinkedIn profile that stops traffic is (literally) filling all the blanks.
Well… how do we fill all the blanks? First of all, you can link your account to Facebook, but if you don't have one its fine, you just need an email to register. When you are logged in, let your fingers do the typing and fill out your profile: upload a 'CIC' headshot (chick-in-charge, clean-cut and professional, not a girl's night ouch shot, for crying out loud!), your name (keep it real, keep it simple), a headline that emphasizes who you are and what you do, relevant contact information (Skype, email and/or Twitter, but skip personal data and keep it professional with your professional or company website.
"#Socialmedia is an opportunity to be transparent but some things are better left opaque."
Right, can I post every day? Yes! It would be a great way to show what drives you and what you care about. LinkedIn was built around people's ambition and skills, so preach it, girl! (In a good way). Please, don't forget to fill your summary using keywords and speaking clearly on your terms and goals for your target audience. Write it in first person, think stellar cover letter, not a getting-to-know-you essay on OKCupid.
You can also add a Project in its designated section to promote your services, products and/or podcasts. If you've had anything published, Go Girl! There is a section for that too. You've got to tell it to sell it (it's not my line but it's a good one)! Also, any special certificates, awards or honors should be posted as well. Use LinkedIn as your trophy wall! Those aren't just for high school hallways anymore! And if you're like me and have awards for extracurricular activities like Baton Twirling, Tae Kwon Do and Track & Field, or you have completed some incredible coursework or are a member of a professional group related to your industry, list that in the Organizations section along with your title.  I even included my Beauty College certificate. I think you would agree Beauty College launched my career. Moving on…LinkedIn is the place to show off your feminine leadership skills!
"You are the beauty product."
Add a jaw dropping video or a Slideshare presentation to charm the pants off your future clients. Look professional and describe what you do in a polished, simple way. Storytelling is the new trend in marketing yourself, but limit yourself to less than 2 minutes, social media has shortened our attention span (the ramifications of living in the distraction era).
List your skills and work projects with optimized keywords, and please be honest! And last, but not least, fill in your past and present experience and volunteer projects to show that you're hot with heart and soul.
It's not bragging if you can't back it up!
I would know…
Beauty, Wealth & Hot Success,
#Ungenita