I said "I Do" in front of Pastor Ron, went on a #ManFreeDiet shortly there after, left my heart in San Fernando Valley, AND treated Mr. Wrong like he was Mr. Right.
#SingleGirlProblems
Here's my Dating Mantra: 
Stand in your power.
Be confident and maintain control.
Be Fierce, Fabulous and FREE until the right guy steps up.
And never settle for someone that is NOT ready and willing to DAZZLE and heroically DEVOTE his life to you.
And there is only 1 way to do that…
If a guy gives you half his time, don't give him a full time position in your head.
YES! I said it…
When you land a new job before you pop the pink champagne or open a bottle of Bethany Frankel's Skinny Girl Drinks you have to slow your roll for 90 days.  Your new employer is checking you out,watching your every move and is paying close attention to behavior patterns to see if you're the "perfect match".
Unfortunately, they can hand you a not so hot pink slip and kick you to the curve in 90 days. Most company benefits don't kick in until after the 90 day period. If you're slipping and sliding between entrepreneurship and working for a traditional company, I'm sure you're very familiar with the probationary period.
It's up to you to show you're an asset and that you don't have a liability bone in your body.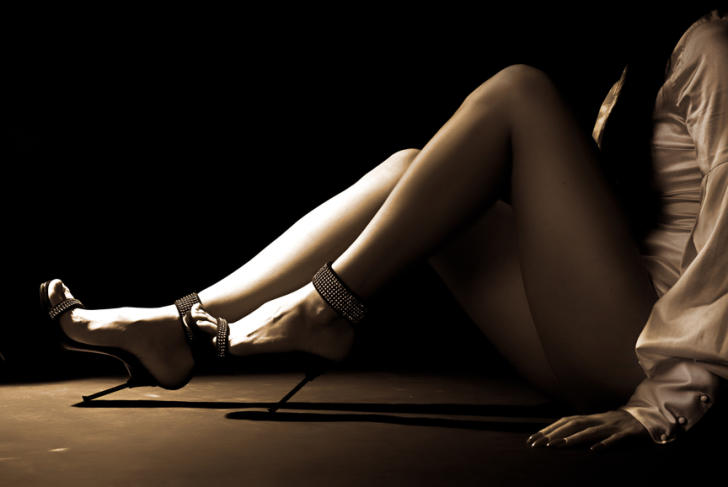 Six Inch Side Note: They are checking you out like a new pair of stilettos. You can feel the stares. Is she a good fit? Is she dependable? Is she init for the long haul?
Work It Girl
So, if a company's willing to wait to get to know you, why aren't you willing to pump the breaks before you  swing the doors open to your  "Safe Deposit Box?"
Waiting is a waste~ words once said by a hopeless romantic!
You feel that intense spark of attraction, the school girl crush has erupted and he is absolutely intoxicating. Put down the glass, confidence is the only way to extinguish the fire! You slowly start to lose your mind and your imagination is filled with vivid images of LOVE & long term lust.   A lack of confidence can cause you to override logic and ignore your instincts. I've been there, done that and I put the key to my safe away.
It's an astronomically sensitive topic for me and I feel more than qualified to tell you why. You see I sashayed downed the aisle in 101 days. You will have to read SellingINStilettos to see how that fairy tale ended. I've also been swept off my feet like Pretty Woman only to find myself at home, in divorce court, on a park bench in tears beating myself up.  What the hell was I thinking? I'm smarter than that!
Time to take my own advice…
The best piece of advice that I can give you (and me too). Create space in the beginning and allow the connection that you share to evolve.
When he wants to see you all the time ~ DON'T.
When he wants to call & text all the time in the beginning ~ DON'T.
When he starts professing how he feels fast and furious ~ DON'T.
Men can shift the relationship in gear and are known to turn and hit reverse within minutes. Another reason to not rush and hit the pause button, your feelings might dissipate. If you get caught up in the moment, you'll live to regret running your month.

The 90 Day Rule: I know you've heard this before and I'm not sharing something new, just giving you another perspective. 
So, before you stop dating other guys, take your profile down online, before you invite him over to your Fantasy Suite (I know, I watch The Bachelor way too much!), before you kiss & tell everyone that he's the one or start looking at how you can get a Vera Wang  or Monique Lhuillier Wedding Gown at 50% off – give it 101 days.
Mr.Right Might Be Mr. Wrong After His Probation
The first 30 days you meet his representative,aka "the perfect version." His flaws are tucked away like auto parts. You might find it easy to hide your idiosyncrasies too.
After 60 days, you begin to see his other side and he's more prone to tell you if he wants a few nights with you or is considering life with you. You might even slip up here too. It's better that he sees the real you instead of falling for a version you'll never be able to live up to.
Day 90-101 is where you're both put to the test.
Morals…
Character…
Values…
They all start to collide.  
I don't know if I can handle that. That's such a turn off. You call your girlfriend; you won't believe what he did. You go to his house and you discover…ouch!
You were attracted physically from the start but the emotional creature within is yearning for a core connection. Modern morals with an eclectic mix of values and a respectable character ignite my senses. What about you?
Facts fill me with clarity.The only relationships built on fiction that lasts forever are in fairy-tales.Oh, Cinderella look what you did to women!
If you're both ready to commit at this point I think you increase your chances for a happy ending.
Otherwise…
It might be time to say Good-Bye. 
Give him his walking papers.    
Start accepting resumes from more qualified candidates. 
Next time around….

You won't be inclined to force a fantasy and fixate on reality. You will maintain your power, you will be more confident, you will be emotionally stable and more importantly you won't waste your time!
I would know…
Love & Beauty,
#Ungenita