The Shark Tank Edition
Every girl deserves a well-endowed bank account and if you believe a trip to Shark Tank will increase your net-worth, I support you 1001%. Meet the woman that is supporting the girls, literally and figuratively.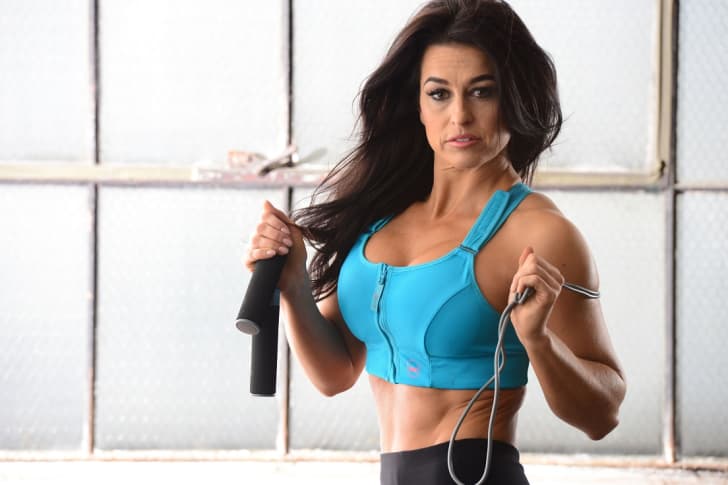 Woman Entrepreneur:  Sara Marie
Hometown : Lived in Michigan most of my life, now call the Grand Rapids area home.
Education : Graduated from Central Michigan University with a degree in Integrated PR with minor in Broadcast Journalism.
Business Model : With a cornerstone of a patented, custom adjustable sports bra, Shefit is poised to become the next premiere athletic brand.
What did you create?  The Shefit Ultimate Sports Bra, a patented custom adjustable sports bra which allows the user to set their fit and level of support, while offering two-way-wear shoulder strap conversion; giving a woman her bra, her way.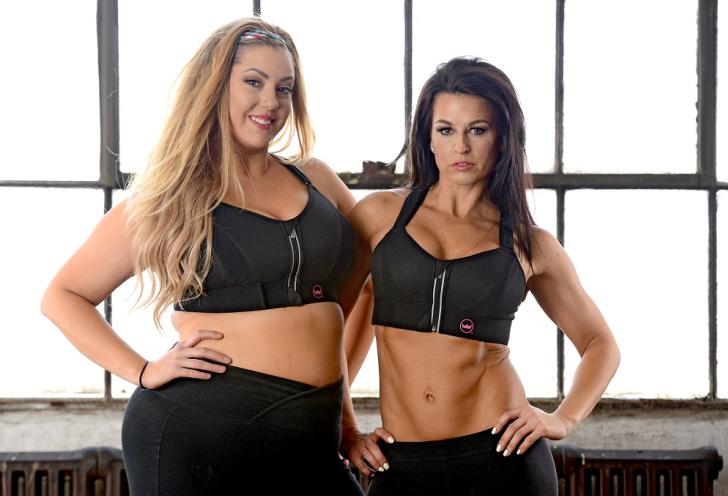 Target Audience:  All women – specifically women who are active or who are looking to add more activities to their lifestyle.
What Shark Invested In Your Biz?  Daymond John
The Shark Tank Business Makeover:  Shark Tank has already been so beneficial. Even before airing, the fact that we had to dig in and know every single thing about our business and our competition – and refine and refine and refine our business plan and goals – that level of commitment and understanding to prepare for the potential Tank opportunity was beneficial to getting incredibly intimate with the brand and every aspect of our business. We, obviously, knew our business but gaining the greater depth of knowledge – that was priceless. Since airing the exposure and customer feedback has been spectacular. When I set out to create this product, I did it for myself – to solve my own problem. When I realized that finding a perfectly fitting, supportive bra was something that many, many other women struggled with, I created a product and a company, with the goal to manufacture a sports bra for every woman of every size. Shark Tank put us in front of so many more women, hearing their positive reactions has been uplifting and gratifying. The icing on the cake is that Daymond and his team have been SO helpful and supportive and are really the best partners we could have asked for.
What are you most proud of?  Every single testimonial I receive from women. Knowing that my little idea, that started to just help myself, has exploded to help so many other women realize their full potential – that makes me so proud.
What is your Work/Life/Balance Regime?  Working out and reading. Working out is a big part of my routine, and helps me release tension and stress, for sure.  I will devour a good book. I gravitate toward books by entrepreneurs – books that help me realize that someone has been through similar business struggles to mine before. Books, and podcasts. Plus my family – especially my four girls. Spending time with my daughters helps me center myself and de-stress… most of the time. HA.
What is a future goal you have for your business?  Our number one priority is continuing to work to get our manufacturing and production capacity more in-line with demand. Then, I plan on expanding our product offerings – additional styles and products.
Favorite Gadget : My iPhone – between myself and our resident "tech guy," Chris (he hates it when I call him that LOL), we have my phone loaded up with productivity apps and social media apps… and regardless of how close to my computer I am, I find that I respond to emails more quickly with my phone. I can't imagine my day without it.
SellingINStilettos Ⓡ sales secret?  Never letting "NO" stop me or get me down. Usually, "no" means "not right now," not a hard "no," so you have to keep trying. That's where determination comes in. Hard work, determination, and passion. With Shefit, I'm so passionate about the product, I want women to try it – I know it will be a help to them.
How would you define your style?  It's funny, around my house I'm more of a "country classic" or "shabby chic" but for my personal style, my fashion, I'm much more fashion forward – not really trendy or edgy, but modern and put together. You know, jeans with heels and a t-shirt with a statement necklace or scarf. And, even though I'm a mom, not "mom jeans," (HA!) nice "fits like a glove" denim.
Formula for Unstoppable Confidence:  Staying fit and healthy is really helpful for maintaining positivity and confidence. I go to the gym or work out nearly every day. I, also, try to eat healthy as often as possible. I think that helps me stay positive and confident. I also have a very supportive husband and family, whenever I feel down on myself, or when things just aren't going as planned, my family steps in to give me that encouragement and that boost of confidence.
A Book That Changed Your Life:  "Focal Point" and "The Compound Effect." Currently, I'm reading Daymond John's "Power of Broke" – it is a great book, and to be clear, it wasn't a requirement in the "Shark Tank" deal!
How did you determine your brand? Name? Positioning?  When I first decided that this was going to be a business and that I was on to something, I immediately started to throw around names and I knew it had to have the word "fit" in it. Because I was a mom, I started with " fit mama ," but that seemed too maternity focused, that's not where I saw my brand thriving. I really understood that if this product, this brand, had the potential to be a big hit – I had confidence it would be – it needed to be a name that could stand next to the "big" brands. For a while the word "she" wouldn't get out of my brain, and I eventually paired the "fit" with it – it just felt right. Friends loved it, and I could imagine wearing t-shirts and leggings emblazoned with "Shefit" … I, honestly, fell in love with it right then and haven't questioned it since.
Lucrative Lesson:  If you come across a problem, solve it. Commit to it. Don't quit, no matter how hard it gets. Focus on the one thing that you can do better than anyone else and strive to be the best, even if your competition is much bigger then you. Believe in your vision and never waiver. Finally, find the right team. Even if it's one by one, keep pulling them onto the journey with you.
Who is your mentor?  Other strong women you admire?  I have a few amazing mentors who have helped me with many different areas of the business. Most of them are local to me in my community, I have a couple others whom I drive to, or speak with, on a regular basis. Since "Shark Tank," I've gained a few ladies from Daymond's team that are working with me and helping me and guiding me – they've been incredibly helpful.
I also admire Tory Burch, Sara Blakely, Oprah, and "Shark Tank's" Barbara Corcoran.
Entrepreneurial Crush:  Sara Blakely, for real! Her story is amazing. Nick Woodman has been able to make super successful company out of an idea people told him was stupid – I admire his tenacity. When Kenneth Cole bought back his namesake company, I became quite enamored with not only his desire to helm the brand the way he wanted to, but his financial wherewithal to do so.
Favorite Hashtag:  Honestly, I'm so bad with using hashtags… around the office we use #supportthegirls – we like to be tongue in cheek with a lot of our brand message.
Social Profile:  Twitter: @Shefit, Instagram: @ShefitApparel, FB: /ShefitApparel
Website:  Shefit.com